Privacy For President, Pop Stars And You
Some very important people ranging from Presidents and Cabinet Ministers to Trade Union Leaders and Pop Stars, are protected by Klingshield's glazing and auto safety tint polyester films. One icon for example – Nelson Mandela, has had the windows of his retirement home fitted with Klingshield reflective film and for the record, when he travels, his bodyguards remain discreetly incognito in cars fitted with auto safety tint film. The promoters of a well known pop star who visited this country recently took the precaution of having their luxury mini bus fitted with Klingshield's auto safety tint film. It enabled the singer to get a look at Johannesburg and other parts of the country without being seeing or recognized. Many well known companies and banks have had their fleet cars privatized in this way. Follow the lead of the rich and famous by having your car privatized, heat protected and your windows shatterproofed with Klingshield's auto safety tint film - drive in style and safety!!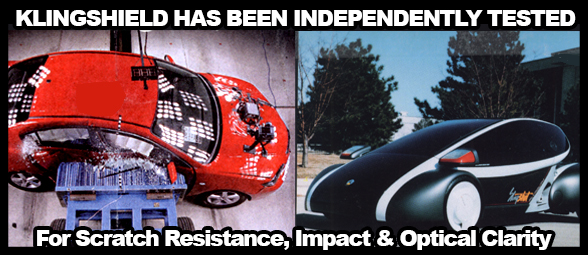 Car Window Tinting Protects Both Driver And Car
The car window tinting industry continues to grow following the passing of legislation in 1990, legislating the tinting of windows to a maximum of 35% light penetration. Past experience shows that drivers safety and car protection are the two main reasons why car owners have their cars fitted with Klingshield. The car film considerably reduces heat and glare, improving driver comfort. Up to 90% of the suns harmful ultra violet rays are kept out by the film. An important factor for motorists who park their cars outside or for those who spend long periods of time in their cars.
The reflection of ultra violet rays protects upholstery and plastic finishes inside the car, therefore helping to retain its resale value. Tinted windows also help reduce heat build up in the vehicle, especially where the car is airconditioned. The reduced loading on the system and increased efficiency has a resultant spinoff in fuel saving. Window tinting also reflects the glare from the sun, as well as headlight glare at night.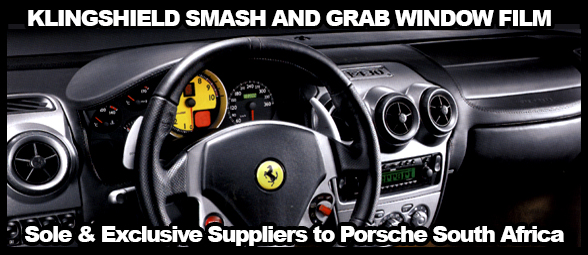 What The Law States
No persons shall operate on a public road any motor vehicle with a visible light transmission. The windscreen must allow at least 70% of the visible light into the car and any other side window must allow in at least 35% of the visible light into the car. The law also states that any film or tinting material applied to any windscreen, window or partition is free from bubbles, tears and scratches. Government Notice – Department of Transport No. R910 26th April 1990 Road Traffic Act 1989 Act No. 29 of 1989. Consolidated road traffic regulations. The Minister of Transport and Public Works and Land Affairs has in terms of Section 132 of the Road Traffic Act 1998 promulgated the regulation in this schedule.