KLINGSHIELD WINDOW GRAPHICS
Strong, colourful "Window'Graphics" communicate your company's unique and personal image. Instantly.
Attract the attention of hurried passers-by more powerfully than with ordinary signwriting. The impact and visual presence of "Window Graphics" can eclipse your competition and make you command attention in your customer's minds. (Some stores have boosted sales traffic by as much as 50%).
Patented guaranteed quality
Unlike conventional paint techniques, our special polyester laminates come in different shades of metallics, opaques, see-throughs and translucent, in a variety of colours and effects to catch the customer's eye. experienced design team to suit customer needs and requirements,Each graphic is designed by our and is then hand-crafted on your existing windows using an aluminium patented technique. All this at a price to suit your budget. We guarantee them for 5 years, but they should last forever. They work for you day and night, "rain or shine".
Our unique Window Graphics also control heat and glare, making your store more comfortable.We also utilise new perforated contravision material and print in high resolution full colour magnificent graphics. This is also available in self-adhesive material designed for building glass wraps.
Marketing is essentially the challenge of gaining attention, credibility and results. For the past 6 years we have proven that our product helps fulfil this challenge. Around the world, our Window Graphics have been creating impact and drawing in customers for our clients. Small stores can become large-impact stores. Large stores can be giants. But pictures speak louder than words.
South African Patent for Klingshield's Window Graphics.
Klingshield were the First Company In The World to Invent Window Signage Utilising Window films and Window Tints.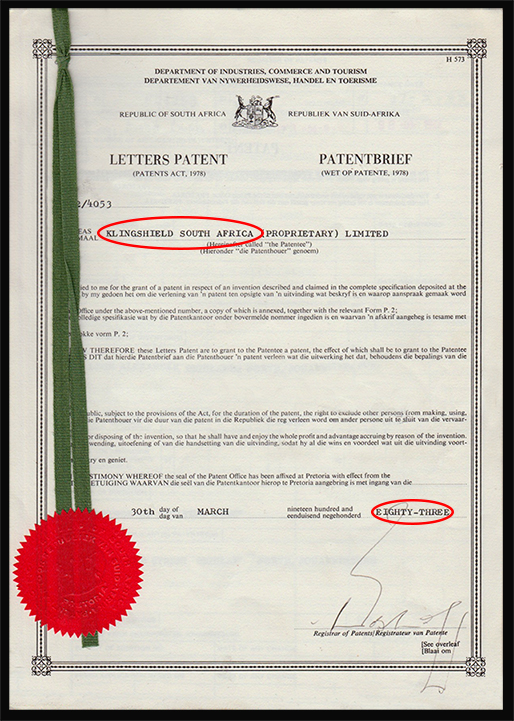 Range of Klingshield's Tranclucent and Opaque Vinyl Films Which are Utilised in the Makeup of Certain Window Graphics
Below are Two Examples of Klingshiled's Window Graphics Applied to Store Windows to Create Attention and to Increase Traffic for Store Owners.
---