Top of the Range Reflective Film
Sputter Film comes with advantages offered by this reflective bronze window film product for buildings and homes. This sputter bronze film has been used with great success over the last number of years. The beauty about this product is that it has a high heat reflection with a low heat absorption factor.
Laminated glass can be a problem when applying dark films to it. Laminated glass absorbs the heat and tends to create a problem with cracking of glass. Bronze Sputter film is ideal for laminated glass as it has a low absorption rate and therefore very little risk of glass cracking.
Numerous consumers do not like the look of the shiny silver film, which is also recommended for laminated glass due to it's low absorption rate and high reflecting properties.
The bronze sputter is a beautiful bronze laid back reflective colour with a total solar energy rejection of 77%.
Hereunder specifications for your reference on high performance Bronze 20 Sputter film.
Solar transmittance 13%
Solar reflectance 44%
Solar absorption 42%
Visible light transmission 21%
Visible light rejected 37%
Winter U value .93
Shading coefficient .26%
Ultra violet rejection 99%
Total solar energy rejected 77%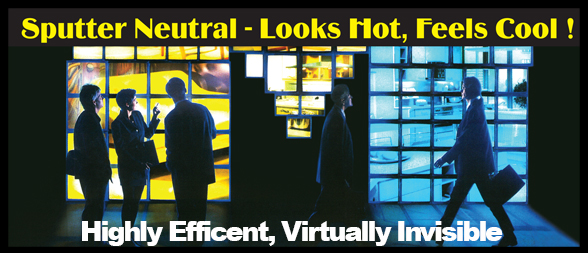 The manufacturing technology of sputter film is highly technical and highly expensive to manufacture. However, Klingshield have reduced their prices on sputter film to offer the consumer excellent performance at real good value.
For further information on sputter film please contact us.

---