Old Window Film Match-Ups
Over the last four decades Klingshield has installed hundreds of thousands of installations to commercial and residential properties. Occasionally windows crack or shatter and are always held together by the film. Some consumers leave their shattered windows for years as the film keeps it in place. However, at some point in time they require it to be replaced.
The biggest problem with replacing film on one pane is to match the rest of the installation and becomes difficult. The reason for this is that over years the film changes by approximately 2% per year and to match it up perfectly is virtually impossible. Another reason matching is very difficult, is because over the years technology has improved and changes have taken place.
Each batch run is never a perfect match to the last batch and the specifications by manufacturers allow for a 5% tolerance when it comes to colour matching.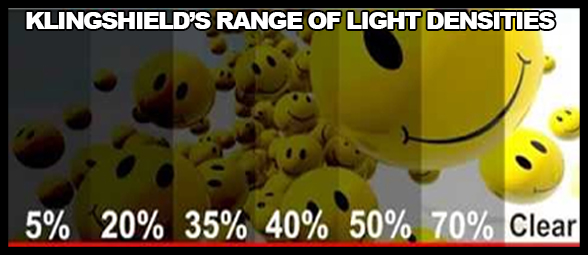 A lot of time and money is wasted by trying to please customers with exact matches on replacement of broken windows. Unfortunately the consumer has to understand that you will never get a perfect match.
This is a problem area in the window film industry. Even the owner of Klingshield could not satisfy his wife with a perfect match when he replaced his broken window. Consumers need to understand and a compromise has to be made in this area.
The best way to get the closest match, is to take the old sample that came off the window and try and match it up as close as possible as per our sample booklets.
Klingshield will not be held responsible for any mismatch in future and the consumer will need to accept our terms and conditions when it comes to matching.
Should you wish to discuss this subject in more detail please do not hesitate to contact Leon Levy at Klingshield's head office.
Non reflective films in tinted colours fade much quicker than reflective films.The reason these non reflective films fade is because they are only dyed film and therefore their life expectancy is far lower than premium laminated hybrid films.
Non-reflective window films were first developed in the early 70's and all they basically were designed for was to filter out light.These non-reflective dyed window films had a low life expectancy,but the new generation of non-reflective window films are now laminated to protect the colour, giving these non-reflective window tints a higher life expectancy.